I'm excited about Wellbourne. It's in Clifton Village, the higgledy-piggledy Bristol neighbourhood where I spent many happy evenings as an annoying youth – though, as I keep hearing from smug residents, the city's food scene has moved on since those halcyon days of Whiteladies kebabs and half-pints of scrumpy.
My local mole highly recommends the Wiper And True beer, but I can't resist the siren call of a "frozen martini", which sounds pleasingly like the kind of thing I enjoyed in my student days. I'm hoping for a slushy the size of my head; I get an elegant and impeccably made cocktail in a frosted glass. Frozen, it ain't, but it is good, as is the squidgy house-made sourdough and nicely salted butter, which would have been even better without an infusion of fig leaf that makes it taste like cheesy Ribena.
The team here has impressive pedigree, having met at London's late and feted Dabbous, but this is a much more laid-back affair, offering rather superior-sounding sandwiches at lunch and brunch, as well as a wide choice of bar snacks that suggest you'd be more than welcome to drop in for a quick drink and a couple of vol-au-vents after work.
Yes, you read that correctly: vol-au-vents. It takes a healthy measure of culinary confidence to serve something so terminally naff without an ironic helping of prawn cocktail, but the four we scoff as we study the menu prove the best thing we eat all evening: crisp, warm, buttery and filled with creamy, meaty trompettes.
My mole, a pescetarian, swipes the starter that caught my eye: charred lettuce with crab, peanut and tagetes, which our waiter helpfully identifies as a citrus-flavoured flower. I have a curious weakness for cooked lettuce – hey, it takes all sorts – but this isn't looking its best, the murky green colour and faintly cabbagey flavour suggesting the charring may have occurred while I was still detained at First Great Western's pleasure. The crab element is plentiful and delicious, but the flowers add nothing save a splash of much-needed colour, while the chalky peanuts contribute an actively unpleasant leguminous note. Smugly, I conclude I've won this round; sure, my Jerusalem artichoke mash, simultaneously slippery and chunky, lacks the rich, earthy sweetness of the roasted crisps on top, but the few slivers of lardo-like smoked eel draped on top add a deeply savoury punch that renders a few mouthfuls sublime.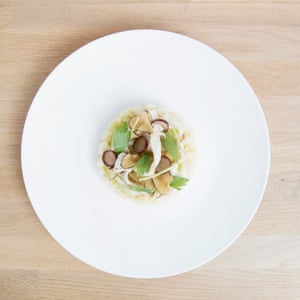 Round two is a draw in that both dishes are faintly disappointing: plain lumps of cod, golden turnip and potato huddle under an artful array of sea vegetables and dotted with blobs of smoked anchovy dressing. It looks the part, but tastes less impressive: "They could have at least seasoned the potatoes properly if they were going to be so mean with the sauce," the fish fan grumbles. My Ibaiama pork is commendably juicy for such a thin cut, but relies on an exquisite shroud of soft, smoky fat for flavour; the fermented cabbage below lacks punch, while crushed white beans hide so apologetically under it all that I take them for grainy mash. That said, they're considerably more enjoyable than a mediocre sauteed potato side that languishes as we polish off a hefty wedge of boldly chargrilled hispi cabbage; this, with a vol-au-vent or two and a basket of bread and butter, would have made a very satisfactory, if rather eccentric meal in its own right.
Comments
comments